The Life-Changing Magic of Tidying Up
After getting our hands on Marie Kondo's The Life-Changing Magic of Tidying Up, a trendy guide to organizing your home, we were inspired to declutter our own homes. We could not believe how easy it was to follow Kondo's methods (called KonMari) Whether your bedroom could use a little sprucing up here and there or the kitchen is in complete disarray, this book is a must-read for everyone. 
While Kondo addresses how to conquer every room in the house, our focus was drawn to the process of cleaning out the closet. All of the organization methods made it simple to find success and we became instant fans. But we aren't the only ones with a slight obsession. We happened to stumble across Lavendaire: a lifestyle Youtuber who is also a fan of The LIfe-Changing Magic of Tidying Up. Check out this video from Lavendaire demonstrating the KonMari method of folding and organizing your t-shirts.
The KonMari method of folding helps maximize not only storage space but the life of your clothes as well. Folding can seem like a tedious task, but keep in mind; at this point you will have tossed a good amount of items from your closet. Having a smaller inventory that only includes the pieces that fit and bring you happiness will make folding your clothes a breeze. Maybe even enjoyable. If you are looking for maximum organization, try keeping clothing of similar colors and patterns together. Once you have completed all of the steps shown in the tutorial, the finished drawer should look like this: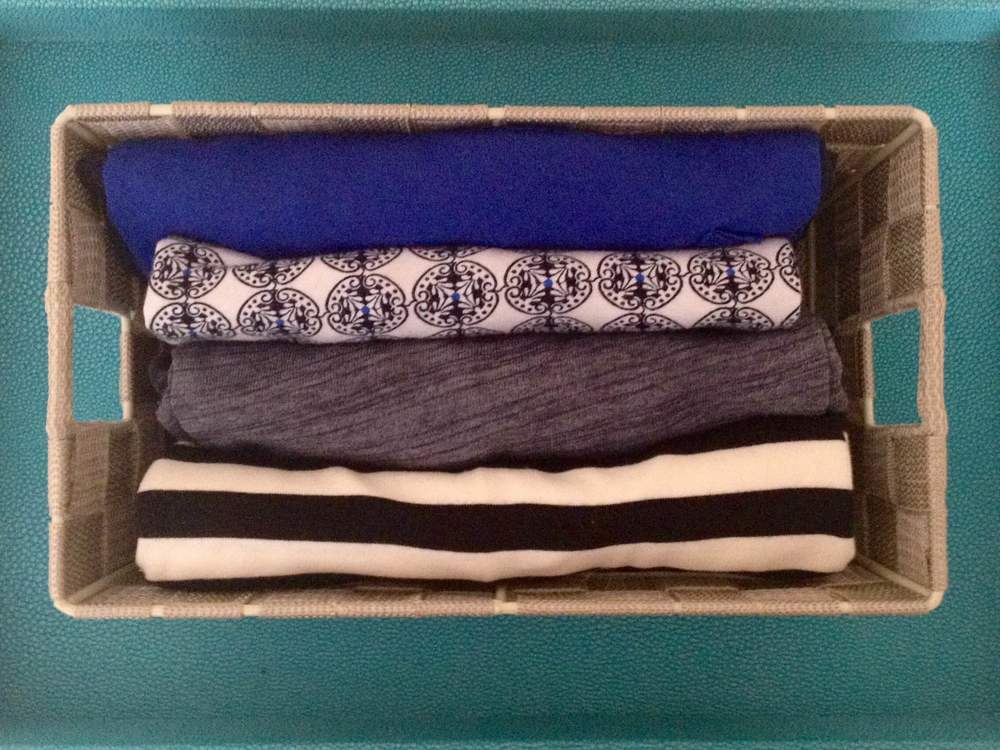 Imagine how amazing would it be to open your closet and everything you saw you loved and fit perfectly. This is exactly what your closet will look like as soon as you clean out all of your unwanted and unnecessary pieces. Remember: if it does not fit or bring you joy, remove it from your wardrobe.  It may be difficult at first to part with your clothing, but once you've completed the process, getting ready in the morning will be a breeze. Everything will be in its place and there will be no worry as to whether or not something will fit. Shopping will also be focused; you will always know exactly what you need and what will fit in with your existing wardrobe.
Once you have cleaned out your own closet, it's time to find a place for all the pieces you've removed. Consignment is a great way to repurpose your gently used clothing (and make some extra cash!). Not only is it a win-win situation, but it is also incredibly simple; all you have to do is bring in the pieces you no longer want and the shop will take anything that meets their seasonal and quality requirements.  If they are things that are not consign-able (just made that word up) you can donate to many local charitable organizations -- the one we work with most is Dress For Success. If you're a workaholic like us, don't worry! Consign Couture also provides in-home pick-ups as well as assistance with closet clean-outs.