Thank you for seven years in St. Johns. Here's what's next...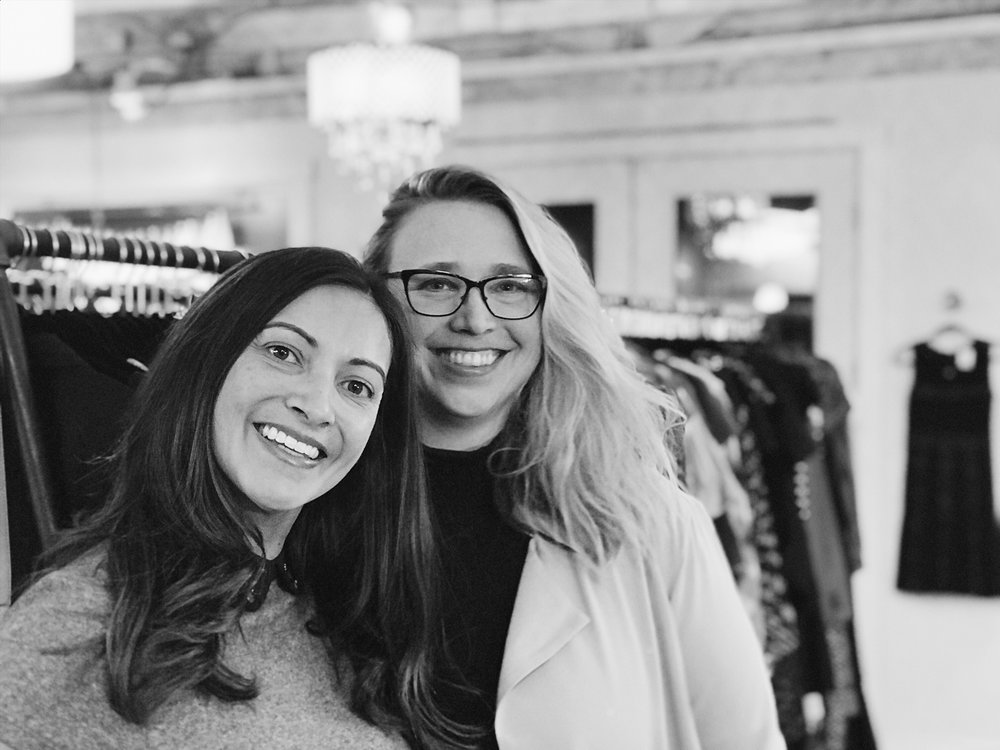 Dear friends,
Hello, nice to meet you, so glad you're here, see you again soon—do you ever think about how life is a series of meetings and partings? Over and over again we come together with others, then we part company. I'm learning to respect each of those concepts: What it means to welcome something and what it means to say goodbye.
Seven years ago I opened the doors of Consign Couture St. Johns with the hope that I could meet my North Portland neighbors and provide a space for them to feel at home. Today, I'm writing to you to say thank you for those incredible, soul-healing years of community, mutual support and sustainable fashion. Like all good things, the era of Consign Couture St. Johns is coming to an end and something new is taking its place.
When I opened this business I never dreamed in a million years that I would pass the torch to someone else, but the time has come for me to do so. While Consign Couture will continue to live on in Lake Oswego, the St. Johns location will become Gather Resale, a new concept from CC VIP and sustainable fashion maven Phoebe Krueger. More on that in a minute.
It's hard to leave a neighborhood that you've loved for over a decade of your life. St. Johns has given me so much more than I can ever hope to give back and I am humbled by what we were able to build together. I am so thrilled to be able to pass the reigns of something so dear to my heart to someone who cares as much about sustainable style, supporting other women and St. Johns as I do.
Thank you again for helping me build a business that gave me so much more than a vocation. Through your love and support, I found purpose, community and a place to truly belong.
With gratitude,
Tam
Introducing: Gather Resale
Gather Resale is committed to providing an inviting space for style conscious and sustainability-minded people to buy high quality resale clothing at a great value. We offer a welcoming atmosphere with top notch service where neighbors are invited to express and explore their personal style by shopping our carefully curated selection of clothing. Our consignment model facilitates a space for consigners to sell their previously loved clothing to new owners who will treasure them.
Letter from Phoebe
You know how sometimes you put an idea out there that sounds awesome but too big and scary to really imagine happening?
Well, that's how I initially felt the first few times I mentioned to Tamara that I would like to have my own resale shop someday. But now that it is really happening, I am more excited than ever and know this is the right decision. Tamara laid the groundwork for a super shop that brings the community together and I plan to continue the awesome work she started while adding my own personal touches to the shop over time.

One of my favorite things about the shop was the sense of community I felt when I walked in and the strong relationships Tamara build with her customers. I am equally committed to Gather Resale being a place that brings the community together and look forward to getting to know my customers.

I've lived in North Portland with my husband Matt (only about a mile and a half from the shop) for the past ten years. I love living up here and supporting the businesses in my neighborhood. I am so happy when I can walk to the store or bike to a local restaurant. Expect to see my bike parked out front regularly when it's not raining!

I've been a customer of Consign Couture since it opened. I shop resale so I can get high-quality clothing at great prices while doing my part not to further damage the environment. I serve on the board of Friends of Trees and am passionate about sustainability!


Looking forward to seeing you around the shop!
Phoebe

Fun facts about Phoebe
I love cats (I have two, Myrtle and Gertrude), hanging out with my husband, drinking beer and wine, trying new restaurants, working out, traveling and reading. I am an expert at creating a solid snack spread. I'm from Wisconsin, but have lived in Portland 16 years. I worked at the Gap for five years while I was in college and it was one of my very favorite jobs. Who knew I would come back to retail 20 years later?
Housekeeping
On January 1, 2019 Consign Couture St. Johns will officially become Gather Resale. So what does that mean for you? It means that you have a new option for beautiful, stylish resale shopping, however, it will be a completely different company than Consign Couture. See below for important information for CC consigners and customers with store credit.
What to do if you have store credit with CC St. Johns?
If you have store credit with Consign Couture in St. Johns you have two options: Use your credit to buy yourself or someone else something nice for the holidays or your credit will automatically transfer to the CC Lake Oswego location after December 31.
What to do as a consigner with CC St. Johns?
Your items sold between now and the end of the year will be paid out after December 31.  Beginning January 1, 2019, your unsold inventory will be sold with Gather Resale; please visit the shop to sign a new contract next time you are in!