University of Portland is 1.3 miles from the shop and every time a student comes into the shop I can't believe how sweet and professional all the students are.  With this photo series I am going to get to know some of the students better by asking them to model for a few looks once a month. Meet Carly, Malika and Chloe.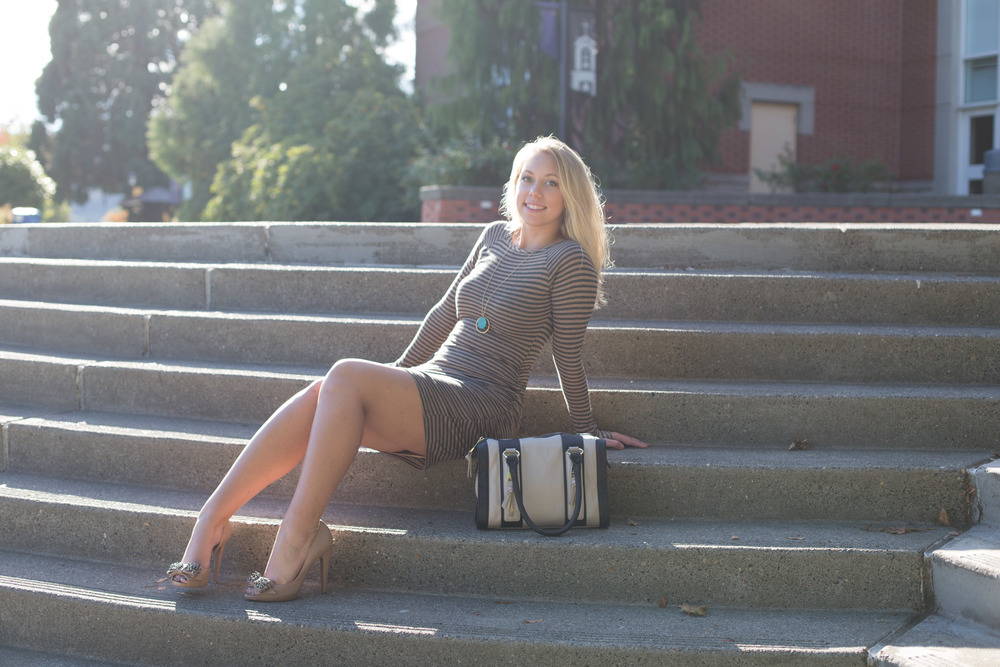 Carly Sutherland
Wearing: Dress by Tart $19.99, Shoes by Sam Edelman 8.5 $49.99, handbag by Steve Madden $29
Hometown: Estacada, OR
Major: Nursing
Why did you choose UP to attend: I fell in love with the small community feel the campus gave, and also for their great nursing school and program.
What is your favorite coffee shop in Portland: Southeast Grind on Powell Blvd. it's open 24 hrs 7 days a week!
What is your favorite outfit to throw on for class: Leggings and boots with a flowy long sleeve shirt & a scarf with my hair thrown into a bun 
Name: Malika-Rose Andrews
Wearing: Top by Paper Crown $39, Skirt by Suzabelle $29 and Miz Mooz Boots 8.5 $79 (photo of the button boots are below), necklace by Saressa Designs $58
Hometown: Oakland, California
Major: Organizational Communication
Why did you choose UP to attend: Upon receiving a generous academic scholarship from UP, I decided it was worth checking out. I visited campus and attended a panel that was comprised of students talking about opportunities they have had since coming to The Bluff. I told myself that if I could become half as successful as these students, I would consider myself accomplished. I committed that day.  
What is your favorite coffee shop in Portland: Cathedral coffee
What is your favorite outfit to throw on for class? A basic dress with black tights, boots, and a blazer. I am a firm believer in no sweat pants to class!
Name: Chloé Tanega
Wearing: Top by Free People $19.99, Leggings $12.99, Boots by Born size 8 $39, necklace by Hanawear $38
Hometown: Kennewick, WA
Major: Psychology 
Why I chose UP: I love Portland. My hometown is only 3.5 hours away so we come to Portland frequently to shop. Not only that, but something about the school just felt like home. I love the fact that it's a private Catholic school so I am able to grow in my faith as i continue to grow as a person. The sense of community here can't be beat so you never feel like you're alone. 
Favorite coffee shop: I'm not much of a coffee drinker, but I do love chai tea! I have yet to discover my new favorite chai place. 
Go to outfit: I love skirts! I have enough skirts to last me over a month. A skirt and a simple black tank top with a different cover up and accessories is super easy to throw on. And dresses are essential for when I'm feeling super lazy but still want to look chic!
Girls are wearing for their 2nd outfits:
Carly: Halogen Blouse $14, Faux Fur vest by Loft m/l $22, Boots by Born (9) $44, Denim by James Jeans $44
Chloe: Shirt by Lush, $17, Elevenses Coat $46 (do you see those details!!) Jeans by Madewell
Malika: Sweater by Calvin Klein $22, Denim by Kut $37 and Shoes by Dolce Vita (8.5) $36
Special thanks to Clare Duffy for jumping in and helping us style a few photos and all photographs Taken by Candace Molatore.  Shot on the UP campus.