Closet Clean Out With Tamara
Before Shot
One of the things i've done most of my life is clean and organize closets. Before I opened my shop I started organizing my friends closets and personal shopping and that was the perfect mixture of passions to open a consignment shop in 2011. I think I instinctively enjoyed color coding and making my own closet a fun place since I was little and my mom was and is a borderline mild hoarder (she's gotten a lot better!) Because of my upbringing I am a compulsive declutter. I've been in heaven the last 5 years with the minimalist and konmari methods going viral. I also love shopping and constantly evolving my personal style based on my travels and how I am feeling. 
I offer in home consignment pick ups and closet clean outs as add on services for my business but I also teach classes to declutter your closet. 
Here's what you need to pre-detox your closet: 
6 bins/boxes

Full length mirror

Good music & morale support

Wine & snacks
Label your boxes or bins
Donate

Consign

Keepsakes

Trial Separation

Get Tailored

Off season storage
I made a highlight video this weekend doing a mini closet clean out with one of my clients with the filming thanks to Megan Nanna.  You can see some of the before closet photos where her closet seems not too cluttered. We touched every item and discussed if it worked for her current life, style and if she felt confident in it and after 4 hours we removed TWELVE trash bags of stuff. Amazing. My approach is not to force anyone to let go of things I just ask questions. 
After chatting with Teri post closet clean out she told me that she acquired the bulk of her excess "stuff" when she transitioned from the East coast to Portland 5 years ago. She realized she didn't know how to adjust to the PNW style and just continued to acquire instead of really identifying her own personal style and buying with confidence. 
My general rule of thumb is after a closet clean out to really sit with what you are missing and what you need and keep notes. After 2 weeks you can start shopping again with more confidence. 
A video with Tamara and Teri showing some of the process of what a normal closet clean out looks like. At the end her husband Ryan comes in and she had to explain she wasn't leaving him. (haha). 
Sorting process
This is not even all that we removed from Teri's closet. Most being donated to GHM ministries!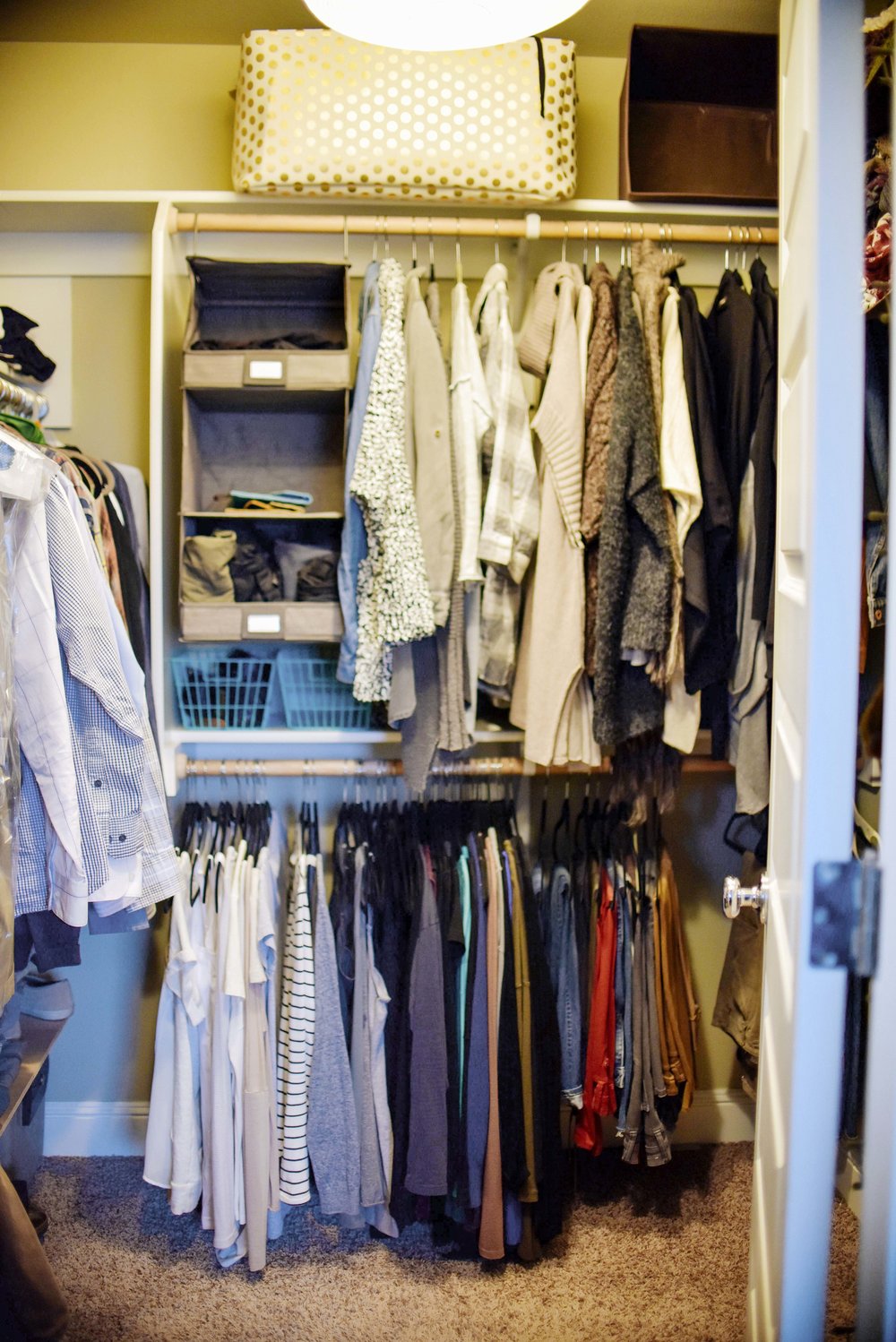 A quick after photo
Now the process of shopping can be fun again now that Teri has a better idea of what she really needs. Not to mention all the space (physical & mental) she has now!
Thank you Meg for filming and photos. Thank you Teri and Ryan for letting me raid your home and allowing me to drink your good pink bubbles.